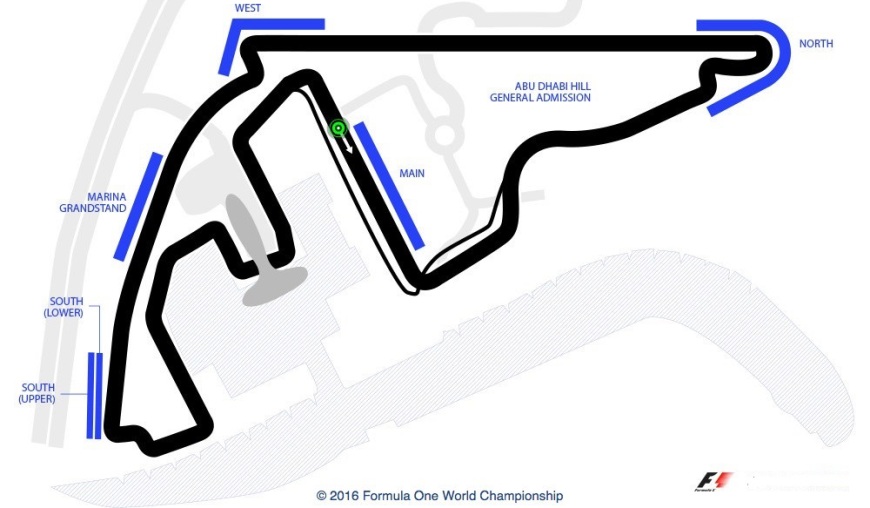 Circuit Name: Yas Marina Circuit
First Grand Prix: 2009
Number of Laps: 55
Circuit Length: 5.554 km
Race Distance: 305.355 km
Silver Package
4 Nights
In: 22 Nov 18 Out: 26 Nov 18
4 Star Hotel
Full Weekend 'Marina Grandstand' Abu Dhabi Grand Prix Tickets
Price: NZ$2,545pp
Gold Package
4 Nights
In: 22 Nov 18 Ou:t 26 Nov 18
5 Star Hotel 
Full Weekend 'South Grandstand/Club Seating' Abu Dhabi Grand Prix Tickets
Day passes for Ferrari World Abu Dhabi
Private round-trip airport transfers
Price: NZ$3,359pp

VIP Package
4 Nights
In: 22 Nov 18 Out: 26 Nov 18
5 Star Hotel 
Breakfast Daily
Full Weekend 'Al Jood Lounge' Abu Dhabi Grand Prix Hospitality Package
Private round-trip airport transfers to your hotel
Daily private transfers by luxury car to the circuit
Private round-trip airport transfers
Please call for details.
A selection of available Ticket Categories & Description:
Grandstand Tickets
The South Grandstand Club package combines a reserved seat in the thrilling South Grandstand and an exclusive access to a relaxing lounge area with comfortable, air-conditioned facilities.
View: Seats in the South Grandstand offers a bird's eye view of the track's Marina area. You will be ideally placed to watch this key part of the circuit, where spectacular overtaking is likely. You will see the cars storm our of the straight and weave through the chicane at Turns 11-12 before accelerating hard out of Turn14. You will also see them sweep around the yachts and the Marina before disappearing under the Yas Viceroy Hotel.
The Al Jood Main Suites are located on the upper floor of the Main Grandstand. These comfortable, private and luxurious lounges are air-conditioned and offer some of the best viewing of the action throughout the weekend.
View: Guests of the prestigious Al Jood Main suites will enjoy outstanding views of the Yas Marina Circuit's Main Straight, Pit Lane, and first and last corners from a private section of the Main Grandstand's second level. In a comfortable and relaxed setting, this is one of the most luxurious ways to breathe in all the magic of the Formula 1 Abu Dhabi Grand Prix, with a bird's eye view of the Starting Grid and Finish of the race. Keep an eye on strategies with great sights of the Pit Lane and celebrate the Grand Prix winner with a clear view of the Podium Ceremony.
Ticketholders relish a reserved seat in the top level of the North Grandstand and access to a lounge. The package includes a reserved seat in the upper level of the panoramic North Grandstand, and access to a private lounge located at the top of the stand.
Seats in the North Grandstand provide great sights of the chicane at Turns 5 and 6, and a bird's eye view of the North Hairpin (Turn 7) and Back Straight. While the chicane and hairpin are fantastic places to witness overtaking throughout the race, the circuit's long Back Straight will allow ticketholders to enjoy the utter power of a Formula 1 car heading at full throttle towards the chicanes at Turns 8-9.
The Main Grandstand runs along the inside of the main straight, facing the starting grid and the pit lane.
View: Seats in this grandstand are a great place to follow the thrilling pre-race grid preparations, the dramatic race start, and see the winner take the chequered flag before celebrating on the podium. This is a fantastic spot for speed lovers too as you will see the cars exit the final right-hander before blasting past you down the main straight.
Formula 1 Grand Prix of Spain – Programme (Provisional)
Friday
GP3 Series Practice Session ~ 10:00 – 10:45
GP2 Series Practice Session ~ 11:15 – 12:00
Formula 1 Practice ~ 1 13:00 – 14:30
GP3 Series Qualifying Session ~ 15:10 – 15:40
Formula 1 Paddock Club Pit Lane Walk ~ 15:45 – 16:45
Formula 1 Practice 2 ~ 17:00 – 18:30
GP2 Series Qualifying Session ~ 19:10 – 19:40
Track Activity Marshal Pit Lane Walk ~ 20:00 – 20:30
Promoter Activity Concert TBC
Saturday
Formula 1 Paddock Club Pit Lane Walk ~ 11:00 – 12:05
Formula 1 Team Pit Stop Practice ~ 11:30 – 12:00
GP3 Series First Race (18 Laps or 40 Mins) ~ 12:25 – 13:10
Formula 1 Practice 3 ~ 14:00 – 15:00
Formula 1 Paddock Club Pit Lane Walk ~ 15:05 – 16:20
Formula 1 Qualifying ~ 17:00 – 18:00
GP2 Series First Race (31 Laps or 60 Mins) ~ 18:40 – 19:45
Promoter Activity Concert TBC
Sunday
GP3 Series Second Race ~ (14 Laps or 30 Mins) 13:00 – 13:35
GP2 Series Second Race ~ (22 Laps or 45 Mins) 14:20 – 15:10
Formula 1 Paddock Club Pit Lane Walk ~ 15:15 – 16:15
Formula 1 Fastest Lap Of The Year Award ~ 15:20
Formula 1 End Of Year Drivers Photo ~ 15:25
Formula 1 Drivers' Track Parade ~ 15:30
Formula 1 Starting Grid Presentation ~ 15:45 – 16:15
Formula 1 National Anthem ~ 16:46
Air Display Etihad Fly Past ~ TBC 16:47
Formula 1 Grand Prix ~ 17:00
Promoter Activity Concert ~ TBC
* Conditions: Prices per person in NZ$, twin share on board basis and ticket category as listed above . Payment: 60% non-refundable deposit due at the time of booking. Balance due 150 days before departure. Balance is subject to exchange rate fluctuations and price is guaranteed only upon receiving full payment. Subject to availability and AIM Holidays T&Cs as listed on our website.