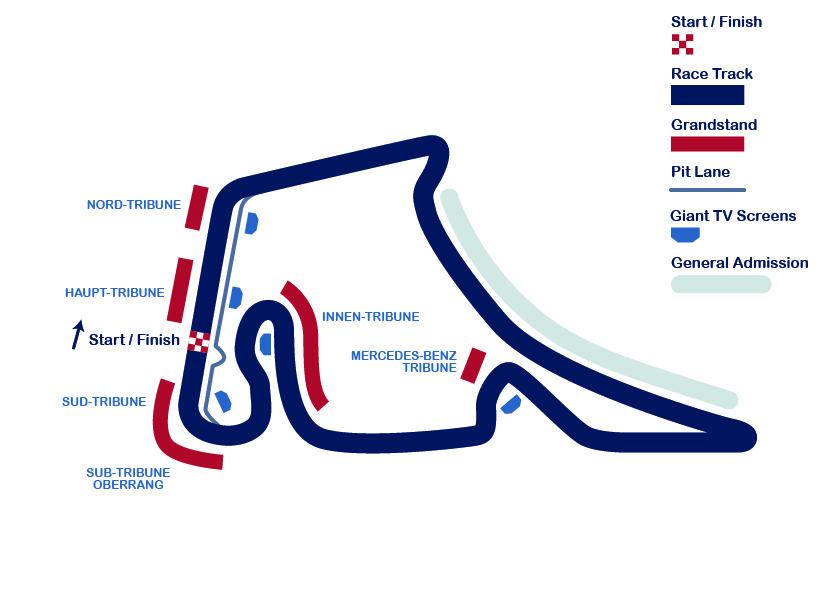 Circuit Facts:
Length: 4.574 km
Race distance: 306.548 km
Laps: 67
Circuit Address:
Am Motodrom
68766 Hockenheim
Germany
Provisional Grand Prix dates:
The 2019 dates are yet to be confirmed by the governing body FIM, therefore are subject to change.
AIM Holidays does not recommend booking any air arrangements for this event until dates have been confirmed.
3 Night Hotel Package
3 Nights
TBA
Breakfast Daily
3 Day Sudtribune Low Cat 5 Tickets (option to upgrade available)
 Sunday Circuit transfers (option to add Saturday circuit transfers)
Informal social drinks with like minded F1 fans (drinks not included)
Tour Merchandise
Mercure Hotel Mannheim am Rathaus
Please call for details
Dorint Kongresshotel Mannheim
Please call for details

Radisson Blu Mannheim

Please call for details

A selection of available Ticket Categories & Description:
Sudtribune Low Cat 5
The Sudtribune offer views of the final few corners of the circuit before the cars power away towards the Start/Finish Line.
Nordtribune Middle Cat 4
The Nordtribune is situated facing the circuits first corner so you'll see the cars power down the home straight towards you and then away as they head off into the lap. A great spot for the start of the race as all the drivers try to squeeze through together.
Haupttribune Start/Finish Cat 2
The Haupttribune is Hockenheim's Start/Finish Line Grandstand offering views of the grid, pits and podium. Always a popular choice of spot from which to take in the action. The Haupttribune is a covered Grandstand.
Sudtribune Upper Tier Cat 1
Hockenheim's Category 1 Grandstand is the Upper Tier of the Sudtribune. From this elevated position there is a very wide view of lots parts of the circuit. The Sudtribune Upper Tier is a covered Grandstand.
Formula 1 Grand Prix of Germany Programme (Provisional)
Friday
Formula 1 Practice 1 10:00 – 11:30
GP2 Series Practice Session 12:00 – 12:45
Formula 1 Practice 2 14:00 – 15:30
Porsche Mobil 1 Supercup Autograph session 14:20 – 15:00
GP2 Series Qualifying Session 15:55 – 16:25
Porsche Mobil 1 Supercup Practice Session 16:45 – 17:30
GP3 Series Practice Session 17:50 – 18:35
Saturday
GP3 Series Qualifying Session 09:45 – 10:15
Formula 1 Practice 3 11:00 – 12:00
GP2 Series Autograph session 12:05 – 12:25
GP3 Series Autograph session 12:30 – 12:50
Porsche Mobil 1 Supercup Qualifying Session 12:25 – 12:55
Formula 1 Qualifying Session 14:00 – 15:00
GP2 Series First Race (38 Laps or 60 Mins) 15:40 – 16:45
GP3 Series First Race (18 Laps or 40 Mins) 17:15 – 18:00
Sunday
GP3 Series Second Race (18 Laps or 30 Mins) 09:15 – 09:50
GP2 Series Second Race (27 Laps or 45 Mins) 10:25 – 11:15
Porsche Mobil 1 Supercup Race (14 Laps or 30 Mins) 11:35 – 12:10
Formula 1 Drivers' Track Parade 12:30
Formula 1 Starting Grid Presentation 12:45 – 13:15
Formula 1 National Anthem 13:46
Formula 1 Grand Prix Race 14:00 – 16:00
* Conditions: Prices per person in NZ$, twin share on board basis and ticket category as listed above . Payment: 60% non-refundable deposit due at the time of booking. Balance due 150 days before departure. Balance is subject to exchange rate fluctuations and price is guaranteed only upon receiving full payment. Subject to availability and AIM Holidays T&Cs as listed on our website.