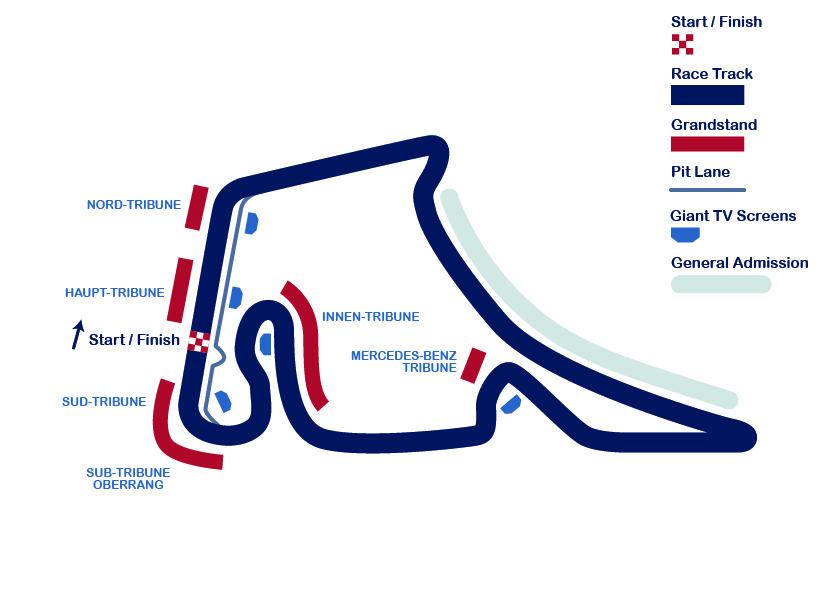 Circuit Facts:
Length: 4.574 km
Race distance: 306.548 km
Laps: 67
Circuit Address:
Am Motodrom
68766 Hockenheim
Germany
Grand Prix dates: 25 -29 July 2019
Silver Package
  4 Nights Accommodation
IN: 25 July  OUT: 29 July 2019
 Full F1 weekend (Fri-Sun) 'Innentribune A, B or C Upper (Covered Seats) Grandstand tickets
 A Rental Car with unlimited mileage for the duration of your stay
 Reserved weekend parking at the Hockenheimring
 'Goody Bag', souvenir lanyard, ear plugs and credentials holder
The Hotel Zum Ritter St. Georg, Heidelberg 
From $2,399 per person
Gold Package
  4 Nights Accommodation
Daily Breakfast during your stay
IN: 25 July  OUT: 29 July 2019
Race Salon Hospitality
Premium Ticket to covered Main Grandstand Saturday and Sunday
First Class catering Saturday and Sunday
Excellent Views, pit lane, start and Finish line, and winner spodium
Reserved Table
Breakfast, lunch and cake buffet with various drinks included
 A Rental Car with unlimited mileage for the duration of your stay
 Reserved weekend parking at the Hockenheimring
 'Goody Bag', souvenir lanyard, ear plugs and credentials holder
Boutique Hotel Heidelberg Suites 
From $3,269 per person
A selection of available Ticket Categories & Description:
Sudtribune Low Cat 5
The Sudtribune offer views of the final few corners of the circuit before the cars power away towards the Start/Finish Line.
Nordtribune Middle Cat 4
The Nordtribune is situated facing the circuits first corner so you'll see the cars power down the home straight towards you and then away as they head off into the lap. A great spot for the start of the race as all the drivers try to squeeze through together.
Haupttribune Start/Finish Cat 2
The Haupttribune is Hockenheim's Start/Finish Line Grandstand offering views of the grid, pits and podium. Always a popular choice of spot from which to take in the action. The Haupttribune is a covered Grandstand.
Sudtribune Upper Tier Cat 1
Hockenheim's Category 1 Grandstand is the Upper Tier of the Sudtribune. From this elevated position there is a very wide view of lots parts of the circuit. The Sudtribune Upper Tier is a covered Grandstand.
[google_maps id="5028″]
* Conditions: Prices per person in NZ$, twin share on board basis and ticket category as listed above . Payment: 60% non-refundable deposit due at the time of booking. Balance due 90 days before departure. Balance is subject to exchange rate fluctuations and price is guaranteed only upon receiving full payment. Subject to availability and AIM Holidays T&Cs as listed on our website.