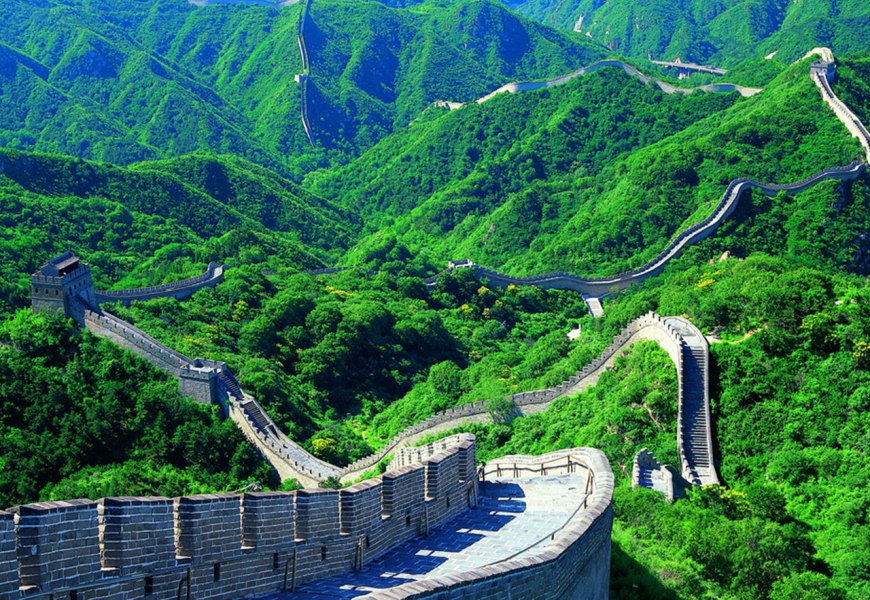 Located in East Asia, the People's Republic of China features an exceptionally diverse range of landscapes, with the eastern side of the country edging both the East China Sea and the Yellow Sea, while southern China is known for its hilly areas and numerous low mountains. China's many leading cities are also quite unique in their appearance. The skyline of Shanghai stands out as a modern triumph, with other important cities including Beijing, Dalian, Qingdao, Macau and Hong Kong offering something unique.
China contains many particularly large and outstanding natural landmarks, such as the world's highest lake (Nam-tso Lake), tallest mountain (Mount Everest), and furthest city from the sea (Urumqi). However, many outstanding tourist attractions in China are manmade and famous in their own right, such as the longest fortification ever created (Great Wall of China), the highest hotel (Jinmao Tower / Grand Hyatt Shanghai), and the biggest aquarium (Ocean Park in Hong Kong).
Despite its rapid speed and growth, China still contains many historic imperial monuments and temples. Beijing is especially appealing and home to the acclaimed Forbidden City, Temple of Heaven and the Ming Tombs. Many tourists choose to stay at a Hong Kong hotel and enjoy breathtaking waterfront views across the stunning Deep Water Bay, while other popular, tourist-friendly cities in China include Shenyang, Tianjin and also Xiamen, all of which offer plenty of traditional Chinese restaurants serving authentic rice and noodle based dishes, usually washed down with Chinese green tea.
Even after a lifetime in China, there would still be more to see, taste, admire and experience.