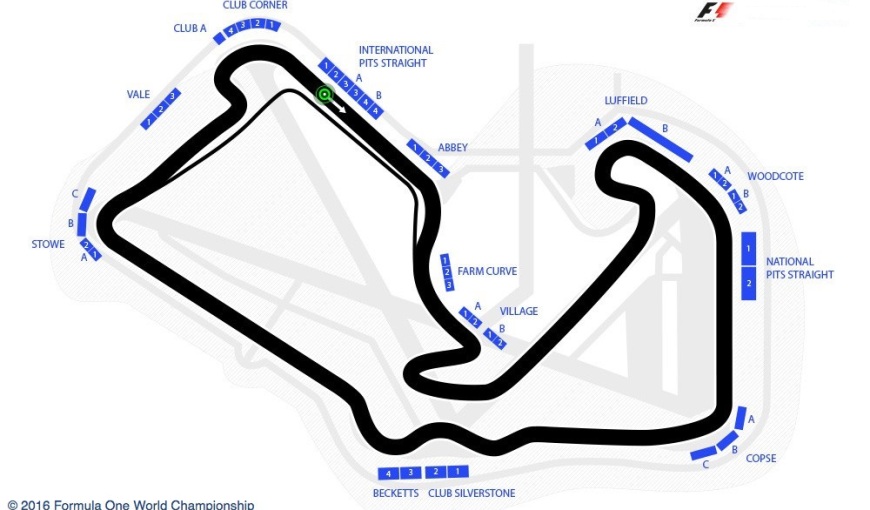 Circuit Name: Silverstone
First Grand Prix: 1950
Number of Laps: 52
Circuit Length: 5.891 km
Race Distance: 306.198 km
Circuit Address:
Silverstone, Towcester
Northhamptonshire
NN12 8TN
England
Provisional Grand Prix dates: 
The 2019 dates are yet to be confirmed by the governing body FIM, therefore are subject to change.
AIM Holidays does not recommend booking any air arrangements for this event until dates have been confirmed.
Package Includes: 
3 Nights in a twin sharing room
12 – 15 July 2019
 Additional nights can be added on request
Daily Breakfast
 Full F1 Weekend 'General Admission' tickets
Saturday and Sunday Circuit Transfers
Best Western Plus Ullesthorpe Court Hotel & Golf Club
NZ$ 1,179 per person
Hampton by Hilton Luton
NZ$ 1,239 per person
Crowne Plaza Heythrop Park
NZ$ 1,399 per person
Available Ticket Categories & Description:
General Admission
This ticket provides access to general areas located around the circuit. Seating is mostly on grassy mounds and views vary greatly. We recommend getting to the track early in order to claim a good spot. The general admission ticket is a great option for guests who prefer the flexibility to move around the circuit. The ticket includes a roving seat in available grandstands for Friday and access to the General Admission areas.
GRANDSTANDS (Upgrade to below options available – call for additional cost)
The International Pits Straight Grandstand runs along the outside of the main straight, and is a great place to watch the adrenalin of the pre-race grid preparations, the dramatic race start, and see the winner take the chequered flag before celebrating on the podium.
This is a fantastic spot for speed lovers, as you will see the cars exit the final right-hander at Club, before blasting past you down the main straight. The cars here push 200 mph making this a truly spectacular grandstand, filled with the roar of the engines. You will also have a great overview of the pit lane and the stunning pit lane buildings, making this is an excellent place to follow the evolution of pit strategies, and to watch the skill of the pit crews
Becketts Grandstand offers a fantastic view of quite simply one of the most iconic and exciting sectors in all of F1. You will enjoy a clear view all the way to the entry of the Maggots S bend, and through the increasingly steep S bend of Becketts, and all the way to the exit onto the Hangar straight at Chapel. This is an exceptional spot to enjoy a panoramic view of this section showcasing" the incredible high-speed cornering capability of modern F1 cars. They stick to the tarmac as though on rails, changing direction dramatically as they weave through the S bends.
In Club Corner, you have a great view of the winners' podium, as well as a spectrum from Stowe all the way to Vale into the International Pits Straight.
Seats in Luffield Grandstand offer a great view over this famous tricky right-hander, where the cars slow to just 65 mph as they hug the apex. You will see the cars enter the mid-speed Brooklands left-hander, an overtaking spot,  before braking hard for this bend, before accelerating hard on exit, and around Woodcote. This is a great spot to see the varied performance of a modern F1 car, overlooking some of the most famous corners in all of F1, with overtaking spots, and hard acceleration and braking zones.
Seats in the Copse  Grandstand offer a view of the short braking zone on the entry to this famous high-speed right-hander, allowing you to see the impressive performance of a modern F1 car, sweeping through this critical corner at incredible speed thanks to aerodynamic grip. You will also have a good view of the exit of the high-speed right-hander at Woodcote, and the blast down the National Pits Straight, and the first part of the exit of Copse which leads down to Maggots.
Formula 1 Great Britain Grand Prix Programme
Thursday
FIA Formula 2 Practice Session 15:30 – 16:15
GP3 Series Practice Session 16:45 – 17:30
Promoter Activity Sky F1 Show
International Pits Straight 18:00 – 19:00
Friday
Paddock Club Paddock Club Pit Lane Walk 07:45 – 08:45
Formula 1 First Practice Session 09:00 – 10:30
Paddock Club Paddock Club Pit Lane Walk 11:25 – 12:45
Paddock Club Paddock Club Track Tour 11:30 – 12:00
Track Activity Renault 40th Anniv. Parade 12:10 – 12:20
Formula 1 Second Practice Session 13:00 – 14:30
FIA Formula 2 Qualifying Session 15:15 – 15:45
GP3 Series Qualifying Session 16:05 – 16:35
Porsche Mobil 1 Supercup Practice Session 16:55 – 17:40
Promoter Activity Concert: Aswad* 18:15 – 19:15
Promoter Activity Concert: Sara Cox DJ Set
(Special Guests Modern
Romance & Carol Decker*) 18:15 – 19:15
Saturday
Formula 1 Team Pit Stop Practice 07:30 – 08:15
Paddock Club Paddock Club Pit Lane Walk 07:30 – 08:35
Paddock Club Paddock Club Truck Tour 07:45 – 08:15
Porsche Mobil 1 Supercup Qualifying Session 08:45 – 09:15
Formula 1 Third Practice Session 10:00 – 11:00
Paddock Club Paddock Club Pit Lane Walk 11:35 – 12:45
Paddock Club Paddock Club Truck Tour 11:50 – 12:20
FIA Formula 2 Drivers' Parade 11:55 – 12:15
Promoter Activity Tigers Parachute Display Team TBC 12:10 – 12:30
Formula 1 Qualifying Session 13:00 – 14:00
FIA Formula 2 First Race (29 Laps Or 60 Mins) 15:00 – 16:05
GP3 Series First Race (20 Laps Or 40 Mins) 16:30 – 17:15
Track Activity Williams & Renault 40th Anniv. Parade 17:40 – 17:45
Promoter Activity Drivers' Fan Forum 17:30 – 18:15
Track Activity Formula Student Demonstration 18:00 – 18:30
Promoter Activity Concert: The Severs Special Guest* 18:30 – 19:15
Promoter Activity Concert: The Hoosiers* 19:30 – 20:30
Promoter Activity Concert: Reef* 20:45 – 21:45
Sunday
GP3 Series Second Race (15 Laps or 30 Mins) 08:10 – 08:45
FIA Formula 2 Second Race (21 Laps Or 45 Mins) 09:20 – 10:10
Porsche Mobil 1 Supercup Race (12 Laps Or 30 Mins) 10:30 – 11:05
Paddock Club Paddock Club Pit Lane Walk 11:15 – 12:05
Paddock Club Paddock Club Truck Tour 11:20 – 11:50
Formula 1 Drivers' Track Parade 11:30
Promoter Activity Williams & Renault 40th Anniv. Parade 12:00 – 12:05
Promoter Activity Red Arrows Air Display TBC 12:20
Formula 1 National Anthem 12:46
Formula 1 Grand Prix (52 Laps) 13:00 – 15:00
Promoter Activity Concert: Rick Parfitt Junior 15:45 – 16:30
Promoter Activity Formula 1 Drivers on Stage 16:30 – 18:00
Promoter Activity Concert: RJP Band* 18:00 – 19:00
*Please be aware that the programme is subject to change.
 * Conditions: Prices per person in NZ$, twin share on board basis and ticket category as listed above. Payment: 30% non-refundable deposit due at the time of booking.
Balance due 90 days before departure. Balance is subject to exchange rate fluctuations and price is guaranteed only upon receiving full payment. Subject to availability and AIM Holidays T&Cs as listed on our website.